We are committed to providing secure paper shredding,
hard drive and media destruction, and reliable document management.
Our comprehensive shredding services cover these areas:
The Trusted Secure Shredding Partner in Texas for Over 14+ Years!

"By far the Best On-Site Shredding Company in Central Texas."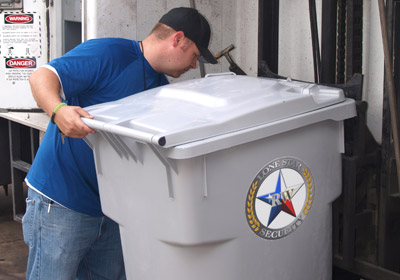 NOTE: We are a local company. We WILL NOT miss-use your email address or sign you up for an annoying newsletter.
Get All of Your Shredding Questions Answered Quickly!
Our consultants will give you a free call to answer your secure shredding questions. It's quick and easy.
Are You Looking for Professional Advice for Your Business or Your Industry?
Proudly serving the paper shredding, document destruction, and hard drive destruction needs of businesses in Central Texas and the Waco, Temple, Austin, San Antonio corridor.  
We Are The Document Shredding Experts!
Frequently asked questions about our document shredding and paper shredding services. Have a document shredding question that you need answered? Contact RW Lone Star Security today. One of our specialists will b happy to help you. Find out why we are the Top Choice for document shredding  in Texas from the Waco to San Antonio corridor.
RW Lone Star Security LLC is very professional. The comapny is always reliable. The workers are very nice and easy to work with. The job is always done fast and with high regards with the our needs. The office staff are great. The RW Lone Star Security LLC company has remarkable prices. The company keeps tabs on your services and check's in from time to time, which this shows they care. They can take care of all your business needs. Andrea Ray City Secretary
Claire McDaniels
2021-09-16
Exceptional company! Quick response times and excellent customer service!
By far the best on-site shredding company in Central Texas. Reliable, convenient, reasonably priced and great customer service. I have used them many times before and will continue to use them. Love RW Lonestar.
Great folks and great service. Reasonably priced and they took care of all the details.
Javier Antonio Oyola
2018-10-24
Buen trato
Easy to do business with. Fair pricing. Quick response. Always goes extra mile.