Mobile Shredding Trucks for On-Site Shredding Services
After spending the past 14 plus years as the top choice for paper shredding in Central Texas, we understand that every local business has their own unique paper shredding needs. We take pride in developing solutions that work for our clients rather than trying to fit them into a "one size fits all" approach. Many of our clients prefer off-site shredding or drop-off shredding, but for other clients those are options may not work. Mobile paper shredding trucks are another effective option to solve our client's document destruction needs. Our state-of-the-art trucks come directly to your business. Once your discarded documents are collected, they are destroyed on-site.
Collecting bins of discarded paper documents and traveling to an off-site paper shredding facility can be difficult some businesses. Whether it is due to the size or amount of the paper waste, or just the logistics and the time involved in the travel, transporting your own paper waste is just not a feasible option for some. In most cases, shredding large amounts of discarded documents internally can also be very challenging. Nonindustrial paper shredders often break down and are also very limited on what they can shred. When you factor in the cost of maintaining an in-office shredding machine coupled with the labor involved in prepping and shredding the documents, this option is also not a good solution.
Our mobile shredding trucks are equipped with industrial shredders that can handle any job.  No need to remove folders or staples. These items will be handled during the document shredding process. You also cannot beat the convenience of our mobile shredding trucks. When you schedule a service, our trucks will come right to your door. A background checked service representative will collect your discarded paper and transfer it to the truck. There we will destroy your documents on-site in front of a representative from your company.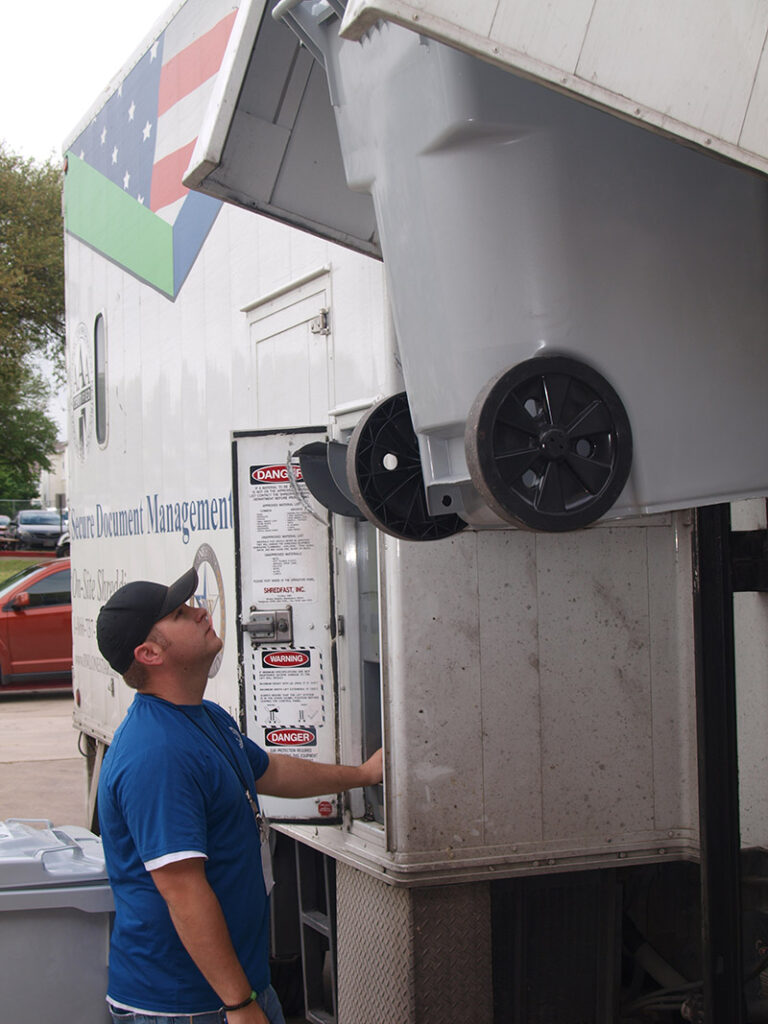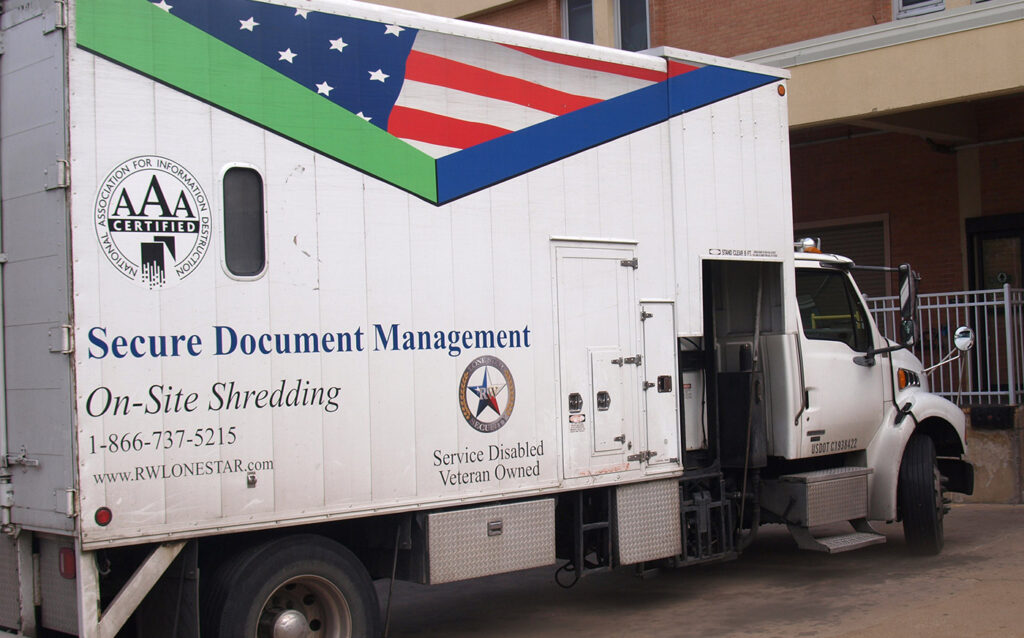 Shredding that is Compliant with State and Industry Regulations
The state of Texas has many laws and regulations regarding the disposal of documents that may contain private information. In addition, most industries also have their own set of data and information privacy regulations. Our mobile shredding trucks use a secure process that keeps your company compliant. From the transfer process to the document destruction, all paper waste is kept secure. At the end of the service, RW Lone Star Security will present your company with a certificate of destruction to keep for your internal records This important document provides proof that your company met or exceeded industry regulations and state law.
Finding the Right Document Shredding Solution
Mobile shredding trucks can be used for regularly scheduled shredding services as well as one-time purge shredding. No job is too large or too small. Contact RW Lone Star Security today to find a document destruction solution that fits your needs. With the best customer service and the most versatile solutions, you will quickly find out why we are the top choice for paper shredding in San Antonio, Austin and all of Central Texas.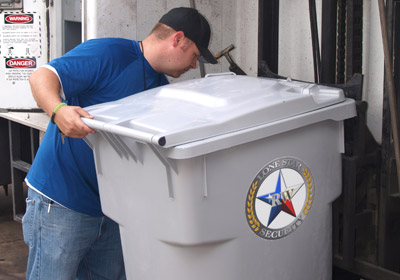 NOTE: We are a local company. We WILL NOT miss-use your email address or sign you up for an annoying newsletter.
Get All of Your Shredding Questions Answered Quickly!
Our consultants will give you a free call to answer your secure shredding questions. It's quick and easy.