Certificate of Destruction
Secure document destruction has become a vital practice by any business that handles any type of paper documents that may contain private information. Over the past decade, protecting sensitive information from identity thieves has become a hot button issue. The practice of obtaining private information for illicit purposes has reached an all time high. It is the responsibility of every business to make sure that any outdated documents that contain private information are disposed of properly per state and local laws as well as industry guidelines.
Law Offices, Real Estate, Healthcare, and Insurance are just a few industries that have very detailed guidelines on how private information is to be securely destroyed.  At RW Lone Star Security, our secure document destruction practices meet all of the state and industry standards for proper destruction of sensitive material. At the end of every document shredding service, we provide our clients with "Certificate of Destruction" to keep for their records.
What is a Certificate of Destruction?
At the conclusion of every document shredding job, RW Lone Star Security will provide you with a Certificate of Destruction. This certificate is a guarantee that your documents were destroyed securely, and in addition, all destroyed material will be recycled.  The certificate of destruction should be kept in your company records to prove that you follow industry guidelines for data privacy.
Our certificate of destructions includes this key information:
Documents the Transfer of Custody starting with the date and location of when the client turned over the material
A unique transaction number for the audit trail
Description of the material collected
Date the material was collected
Accepts fiduciary responsibility for the material, assuring that it will be treated confidentially
The method of destruction
Date and location where the material was destroyed
Names the witness to the destruction and has their signature
RW Lone Star is a Texas based company and proud to be the top choice for document shredding in Austin, as well as the most trusted document shredding company in San Antonio, Waco, and Temple, as well as their surrounding communities. We operate our services with the security and privacy your business demands.
RW Lone Star Security is a CVE Certified Service-Disabled Veteran-Owned Small Business and NAID Certified for On-Site Mobile Shredding to include Paper/Printed Media, Computer Hard Drives and Non-Paper Media, Data Tape, CD/DVD media, and have been servicing both government agencies and private companies of all sizes now for over 12+ years.
The Trusted Secure Shredding Partner in Texas for Over 14+ Years!

"By far the Best On-Site Shredding Company in Central Texas."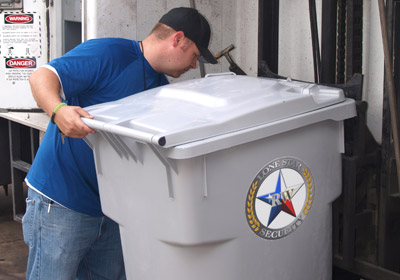 NOTE: We are a local company. We WILL NOT miss-use your email address or sign you up for an annoying newsletter.
Get All of Your Shredding Questions Answered Quickly!
Our consultants will give you a free call to answer your secure shredding questions. It's quick and easy.