RW Lone Star provides a host of security services in Austin, including paper shredding, document shredding, mobile shredding, and hard drive and media destruction.
RW Lone Star can help your business stay safe and compliant!
Over 14+ Years as The Top Shredding Service in Austin!

"Aways fast, friendly, punctual and customer oriented..."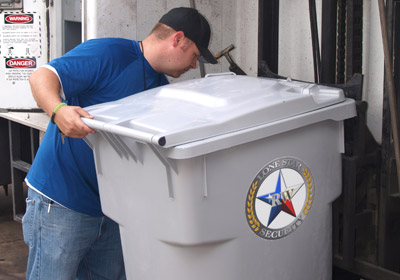 Get All of Your Shredding Questions Answered Quickly!
Our consultants will give you a free call to answer your secure shredding questions. It's quick and easy.
Starting Your Shredding Service is Easy!
Shredding Services Austin
Whatever it is you are shredding, RW Lone Star is here to help. RW Lone Star is a veteran-owned company, and integrity is incredibly important to us. If you have a security breach at your company, you will not only lose new business but also the trust of your current customers. RW Lone Star shreds your paper documents and recycles them, so you never have to worry about staying compliant or losing important data.
We are the most trusted choice for paper shredding in Austin. From Cedar Park and Round Rock down to Buff Springs and Buda, we service the entire greater Austin area with our secure document and data destruction services designed to protect your business. Call us today to find out how we work harder than our competition to make sure that your revenues and reputation are safe.
If you aren't sure how often you need paper shredding – weekly, biweekly, monthly, quarterly, or even twice a year – RW Lone Star will help you determine the best schedule to fit your needs and keep your business running smoothly, and compliantly.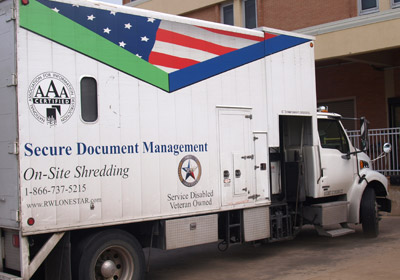 Austin Paper Shredding Service and the Surrounding Communities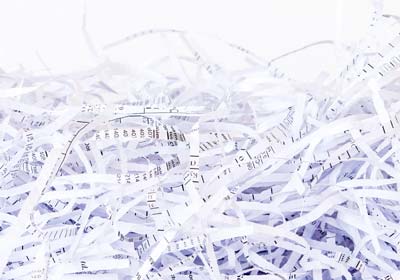 Secure Document Shredding Service
When it comes to sensitive data, you don't want to hang on to old documents. One of the easiest ways for any company to have a security breach is by the often forgotten, low tech, paper documents. Employees mishandling documents or throwing them away accounts for millions of dollars in losses from identity theft each year. Make sure your employees know how to properly handle and dispose of documents. RW Lone Star offers secure containers so that you can make sure that your business and customers are safe from security breaches and identity theft.
We leave nothing to chance! We are the secure document shredding choice in Austin because we always provide quick, reelable and effective solutions to dispose your sensitive information securely and on a schedule that fits your businesses needs.
Mobile Shredding Austin, TX
RW Lone Star's mobile shredding services mean that you don't even have to leave your office to stay on top of your business' security. We can make scheduled visits daily, weekly, biweekly, monthly, or quarterly so that you never have to think about making an appointment or stopping in. If you have a smaller number of documents, hard drives, sensitive material such as employee badges, or other media, we will happily come by and take care of them.
Get a Quote Today and find out why RW Lone Star Security is the top choice for mobile shredding in Austin, TX.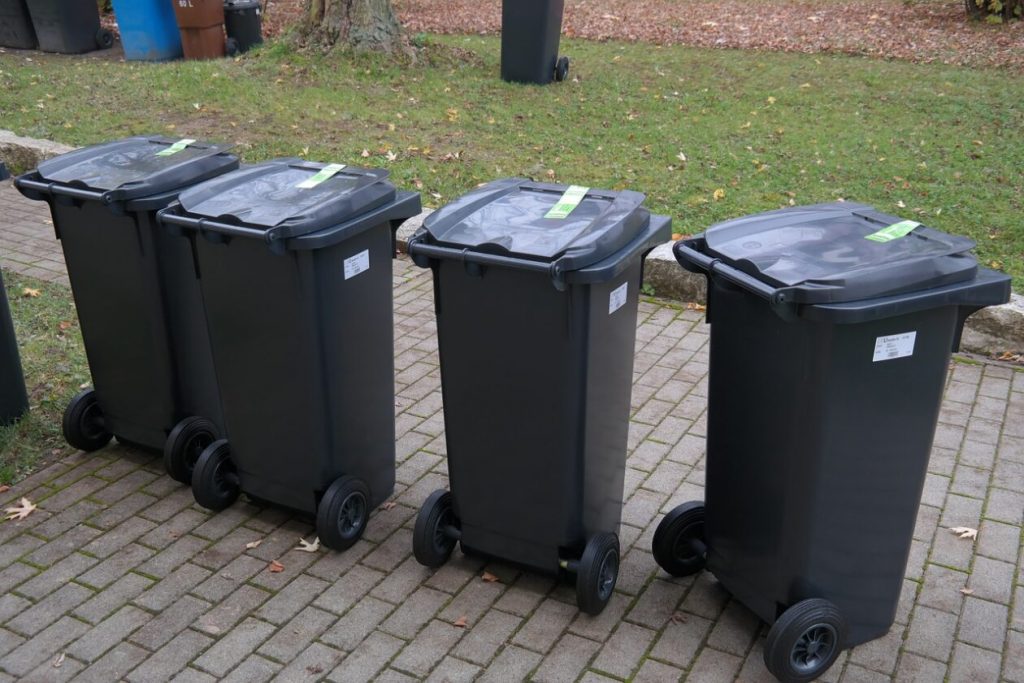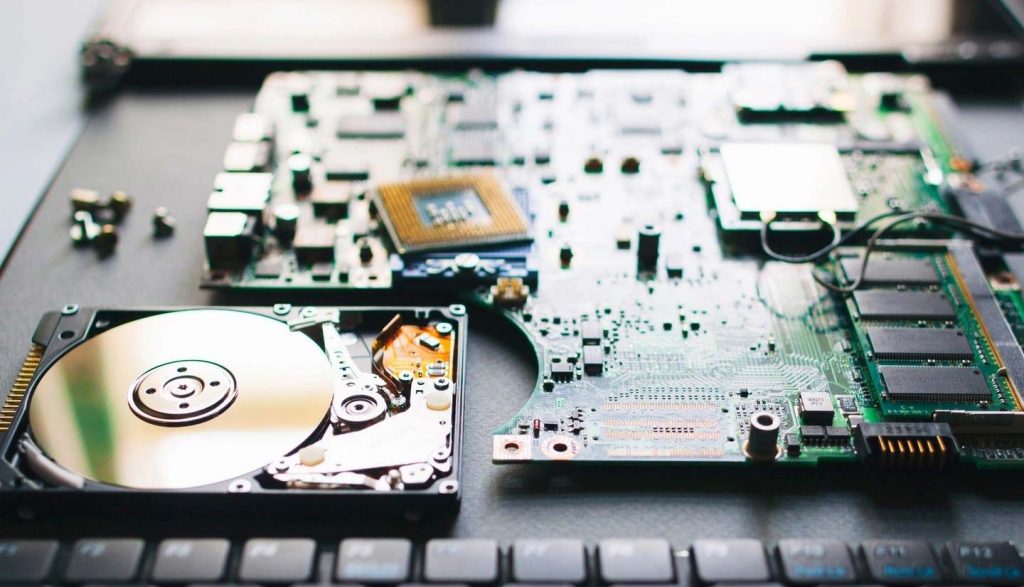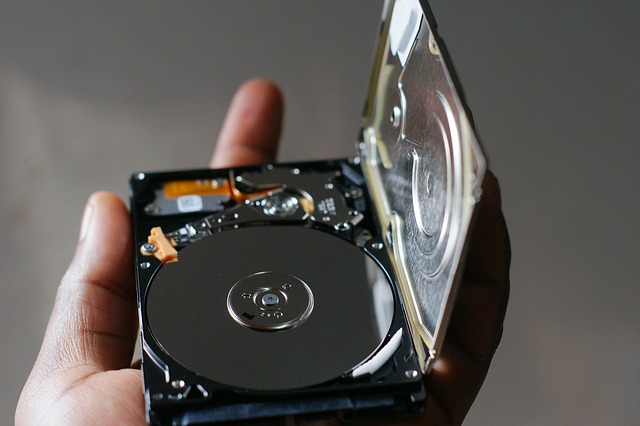 Hard Drive Destruction Austin
Even if you delete all of the information off of a hard drive and wipe it clean, the data can still be recovered. The only way to ensure that all of the sensitive information is safely delated is total destruction of the hard drive. RW Lone Star Security are the trusted experts in for hard drive destruction is Austin, TX.
Our data destruction services include many types of digital media which may contain sensitive information that you will want completely destroyed:
Credit Cards and Bank Cards
Removable Drives – Thumb and Jump Drives
Many Types of Hard Drives (Magnetic, rotational, and solid state)
At RW Lone Star Security in Austin, our team will affordably retrieve your electronic devices and drives and completely destroy them. Call Today and find out why businesses, health care facilities, and government agencies in Austin trust us with their secure product destruction, electronic media destruction, and hard drive destruction.
Your Trusted Shredding and Sensitive Information Experts
We take pride in our work; you can rest easy knowing that your documents, media, and hard drives are safely destroyed.
Shredding services are especially important for industries with access to a lot of sensitive information that if lost to the wrong hands, could result in hefty fines, penalties, a lawsuit, or even the loss of a license. These industries include health care, insurance companies, education, government services, legal firms, and hospitality.
Protect your business from one of the most common information breaches, due to mishandling of paper documents, not disposing of an old hard drive properly, or throwing out uniforms or other media that may be able to be used against you. Everything from resumes and job applications to medical records could potentially result in identity theft or worse.
Our comprehensive document management systems cover these areas:
Paper Shredding Austin FAQ